4 Meal Prep Containers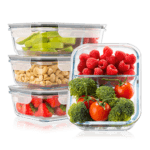 Save time and money, while eating more healthily with the Twinzee food containers meal prep boxes! 
Practical and Ideal for preparing meals in advance:  
The 4 lunch boxes can contain up to 1040 ml: meal prep box designed for growing children's and teenagers' lunches! Thanks to the borosilicate glass and airtight seal of the meal prep box, pop your casserole straight into the oven to cook in these shallow dishes and you can also leave it overnight and reheat in the microwave the next day for a hot lunch at work. Prepare and make frozen meals to store for later. 
100% Air-tight and leak-proof: 
Bring your leftovers to work for a tasty hot or cold packed lunch in your glass food container. No need for a isotherm meal bag, the seal of the tupperware compartments is totally air-tight and means you can bring a sauce dish and your dessert in the same glass lunch box in two separate sealed compartments. 
Each glass meal prep box is easy to clean, non-staining and does not retain odours from the food which was stored in it. Put your meal box straight into the dishwasher. Save time and space: the glass containers are stackable for compact, easy storage. Put your bento box and its lid straight into the dishwasher. Save time and space: the glass meal boxes can be tidied away in stacks for easy storage.
Quality, safety and the Twinzee guarantee:
Each meal box is made with the best materials: borosilicate glass and a BPA-free plastic lid. You can take advantage of our 30-day "100% satisfaction or your money back" guarantee and a 2 year manufacturer's warranty for all of our glass food containers.
Robust, airtights, easy-to-wash meal prep boxes, all made of high-quality materials!
Buy this product