Manual Squeezer : lemon, lime, orange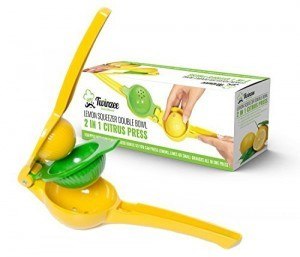 Tired of seeds falling into your food? Hate the mess from squeezing lemons with just your hands? Hate changing squeezers for different fruits?
Now with the "Twinzee" 2 bowl citrus press, you can easily take the juice out from different fruits and even different sizes.
Why Twinzee Built in 2 Bowls in 1 Lemon Squeezer ?
HASSLE-FREE JUICING EXPERIENCE:The double-bowled design of the Twinzee citrus press allows you to take out juices from limes, lemon, and oranges from a single gadget. The small bowl can be used for limes and lemons. If you want to juice out oranges, grapefruits, and large citrus fruits, then use the bigger bowl.
SAVES TIMES: The citrus press is a handy tool when you are in a hurry or want to make a mixed citrus juice. Just put two different fruits in the two bowls and press to take out the juice.
EASY TO USE: Taking out juice has never been this easy. Just three quick steps and you have pure juice without seeds or pulp.
EASY TO CLEAN AND DURABLE: The citrus press is made from a durable material which is unbreakable. The tool is also dishwasher safe.
A PERFECT GIFT: The citrus press is not only great for personal use; it can be used for gifts. Cooks at all levels will cherish the gift of Twinzee citrus press every time they splash the refreshing juice in their cocktails, dressings, and meats
WE STAND BY OUR PRODUCT: The Twinzee citrus press is backed by a Hassle Free, Premium Lifetime Replacement Guarantee!
Buy this product
Click The "Add To Cart Button" Now – RISK FREE – To Get Your Favorite New Twinzee Double-Bowled Citrus Press Today!
100% satisfied customers, and you ?
"This is a great manual juicer! It is made of metal, very sturdy and makes great juice each time!! It can juice lemons, limes and oranges. Just cut your fruit in half, place it flash down and squeeze the juicer together. It gets every single drop out each time, no wastage at all!! It is so easy to clean and is slim lines so does take up much space in your kitchen drawer!!"
"The Twinzee Lemon Lime Orange Manual Squeezer Citrus Press is another great design from this French kitchen accessory company. The citrus press is an easy to use product that can give you freshly squeezed juice very quickly and easily. The press is ideal for squeezing lemons and limes but can also be on small oranges, satsumas or tangerines – it is too small for normal sized oranges unless cut up. There are instructions for use on the outside of the box but all you need to do is cut the fruit in half, place it cut-side downwards in the small or larger bowl, depending on size, and squeeze – you need good hand function for this! Imagine a large garlic press and this is the same principle."