Dual julienne peeler & vegetable peeler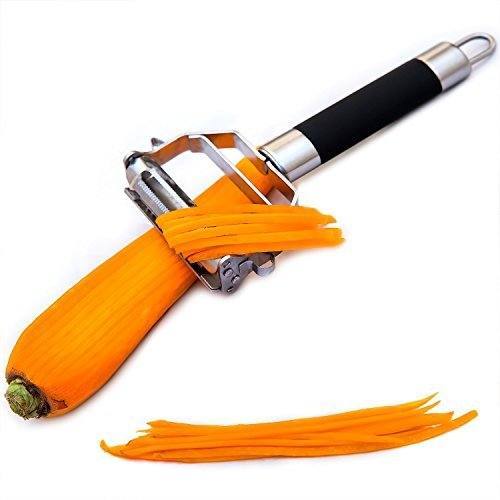 Make Healthy Food a Regular Guest at Your Table!
The Twinzee 2 in 1 Peeler, introducing more fruits and vegetables into your diet is easy. Make your meals more than just a daily ritual, but a genuine source of energy and vitamins for your family. Vegetarian, vegan, paleo or side dishes are easy and quick to make now.
Finally… A Multifunctional Gadget That Makes Everyday Cooking Easy!
Unlike a spiral slicer, the Twinzee Dual Julienne & Vegetable peeler allows you to peel, julienne, slice and shred vegetables of any shape and size. It's not four different tools – just a single peeler that makes cooking fun. Hide your food processors in a drawer! The Twinzee cutter is much handier.
LOOK! Now You Can Decorate Your Dishes With Restaurant-Quality Garnish
The original julienne peelre lets you create pasta or chips from your favorite vegetables! Carrot, parsnip, sweet potato, cucumber, orange, lemon, squash, apple, cheese… you name it! Ever tried to make zoodles (zucchini noodles)? Now you can!
Top Benefits
The razor-sharp serrated blade cut through any vegetables.
Creates delicious-looking dishes for picky eaters.
Best quality stainless steel that presents as a beautiful brushed metal.
We want you to be completely happy with your julienne peeler and if you're not we will refund your money, no hassle, no conditions.
Buy this product
Click the Add to Cart button now and consider buying 2, they make a great gift.
100% satisfied customers, and you ?
"Last year I took on a ketogenic diet and, as part of this, I use vegetables quite a bit as stand ins for normal carbs. I have become quite obsessed in fact with veg noodles replacements and have tried a wide range of products to achieve this effect. This julienne peeler is perfect for this as it is super sharp and cuts evenly without smooshing or bruising the veg – this is particularly important with zuchinni noodes or 'zoodles'."
"I have used other juliennes in the past, but this is the best julienne I have used so far! The first note to make, is that this product is VERY sharp. It has two type of blades, one for peeling, and another for the julienne. It has a nice soft handle which makes it very comfortable to use. The peeler works great, it is little odd, as this peeler is actually serrated, so it leaves small lines on the peeled vegetable, this looks nice and I feel this helps the peeler to work better. It easy peels any type of vegetable with ease."