2 elegants stainless steel salt & pepper grinder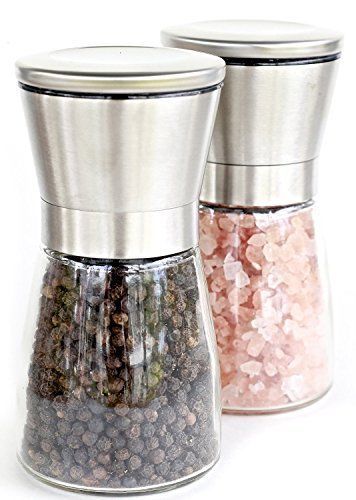 Add some Class to your Kitchen
Impress your friends when they see you prep dinner with freshly ground spices from your stainless steel salt and peppre grinder set.
Our salt and pepper mill set was designed with modern elegance in mind as well as optimal functionality. You reach for salt and pepper every single day, so why not make the experience as well-designed as possible?
Top Benefits :
Generous sized glass base–do more grinding and less refilling!
High-quality stainless steel top with glass base–impress your friends and "spice" up the look of your kitchen
Modern and elegant upright design–because the grindres sit upright on the glass base, spices won't leak onto your table
Adjustable setting for desired coarseness
Easy-to-remove screw off top–makes refilling a breeze
Stainless steel cap–keeps your spices fresh
100% satisfaction guarantee
Buy this product
Buy a Salt Mill & Pepper Grinder Now to have available for your next meal.
100% satisfied customers, and you?
"I love these salt and pepper grinders. They are ergonomic, functional and durable, with thick glass bottoms and stainless steel coated plastic caps. They are on the large side, but this makes it so very easy to fill. Also they are fully adjustable so that you can achieve the perfect grain size for your needs, by turning metal and plastic cap on the ceramic mechanism, which is on the top of these mills – so this ensures that you don't get any spills of salt and pepper on your table or kitchen surface."
"Unlike a lot of salt-and-pepper sets that are on the market this particular product actually looks in place on any occasion whether it be a barbecue or a formal dinner with guests. The ceramic grinding mechanism is very positive and built to last and their adjustable mechanism is a unique feature ensuring that just the right size of grain is produced. It also has a good sized capacity to ensure that refills are kept to a minimum. I would say that this product is a good investment simply because of its versatility which cannot be found with other products on the market."