Professional garlic press + peeler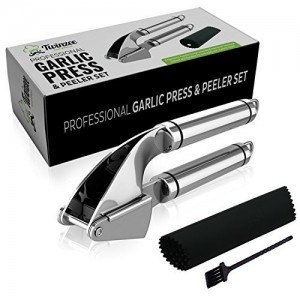 Do you worry about your hands will smell like all garlic? Or are you trouble in garlic mincing which can be annoying task?
Either way – This fantastic kitchen gadget is for you !
Here are 5 Reasons You Are Going to LOVE Your Twinzee Garlic Press :
It easily minces garlic in one press (No more sore palms or aching fingers like you get with other garlic presses)
Large capacity basket (Press good sized cloves …)
No more stinky "garlic hands" (Easy to use and even easier to clean so you won't have to worry about smelling like garlic cloves all day)
Heavy duty, quality construction (BUT it weighs in at a svelte 255 g so ANYONE can use it effortlessly)
You risk absolutely nothing. The Twinzee Garlic Press & Peeler set is backed by an unconditional 100% money back guarantee!
Order your own Twinzee Garlic Press today. Use it in your kitchen to effortlessly press garlic and add loads of flavor to your favorite dishes. Once you've seen for yourself how handsome is the Twinzee Garlic Press, how easy it is to use, how quickly you can clean it, we're confident you'll have LOADS MORE than 5 reasons to love it! Imagine… you could be enjoying the robust flavor of minced garlic in all of your favorite dishes – spaghetti, lasagna, risotto, and so much more!
Buy this product
All you need to do is click the button at the top of this page to have your very own Twinzee Garlic Press rushed straight to your door.
100% satisfied customers, and you ?
"This garlic press is awesome, i've been wanting to purchase one for a while… Love the accessories it comes with to peel the garlic and the little brush for cleaning purposes. I would recommend this product…I received this at a discounted price in exchange of my honest unbiased opinion and I can't fault it in anyway"
"I am impressed by the quality and design of this garlic press. It is durable and solidly built. The packaging is very nice and would be great for a culinary gift. It will make a great addition, to your cooking arsenal. It has a really good grip and works great. The silicone garlic clover peeler that comes in the set makes my life super easy. These work great and are easy to use and clean, but I already had two in my kitchen. The best thing about this garlic press is that it can extract almost double the amount of garlic out of a garlic clove as compared to the usual cheap ones available in the market."