Heat Resistant Silicone BBQ Oven Gloves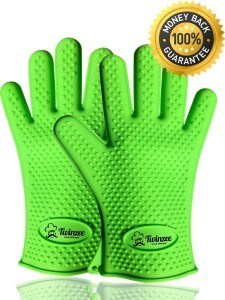 Throw Your Old Oven Mitts Away!
Are you fed up with the smelly, stained oven mitts that you keep using in your kitchen or on the BBQ ? Are you tired of your oven mitts soaking up water or burning your hands? Twinzee oven gloves are the best solution! We guarantee it, and so do tons of other customers! Easily manage countless grilling and cooking scenarios, all the while keeping your hands safe and dry. There is nothing more quality and durable than our BPA-Free, FDA approved 100% pure recyclable silicone – just waiting to be introduced to the kitchen and the grill!
As you first experiment with your new Twinzee kitchen gloves, you should know what separates us from the competition, its simple really :
– The Highest Rated, Most Popular Silicone Cooking And Grilling Gloves Available!
– Heat Resistant For Temperatures Up To 425 Degrees Fahrenheit
– Totally 100% Waterproof To Allow a Diverse Range of Use In Virtually Every Cooking Arena
– No Slip Design To Allow Safe Movement Of Hot Items – No Staining or Smell
– Even After Long-Term Use – Dishwasher Safe – BPA-Free – FDA Approved Twinzee gloves are the ONLY Silicone Cooking Glove Backed By A Free Premium Lifetime Guarantee And They Are The Only BBQ Gloves That Will Include A Personal Commitment From Our Company To Ensure YOUR Satisfaction!
So What Are You Waiting For? Order A Pair Now, And Maybe One For Your Best Friend !
Buy this product
Promotion
Enter code 10GLOVES at checkout and get 10% off when purchasing 2 pairs !
100% satisfied customers, and you?
"I am a great fan of silicone kitchen utensils and this pair of gloves is no exception to that. The heat resistant properties of silicone means that these oven gloves will be much more long lasting than ordinary cloth gloves, or even your tea towel – which lets face it, a lot of us use for taking hot stuff out of the oven or off the cooker, not always successfully either !
"
"I was constantly burning myself previously when using a tea towel, especially when taking things out from the oven. I think I'm just
blessed with being clumsy !! So no more….as these are now my go to gloves for hot food, I'm going to ditch my tea when it comes to touching hot trays/food and keep the
tea towels for drying plates/ hands."